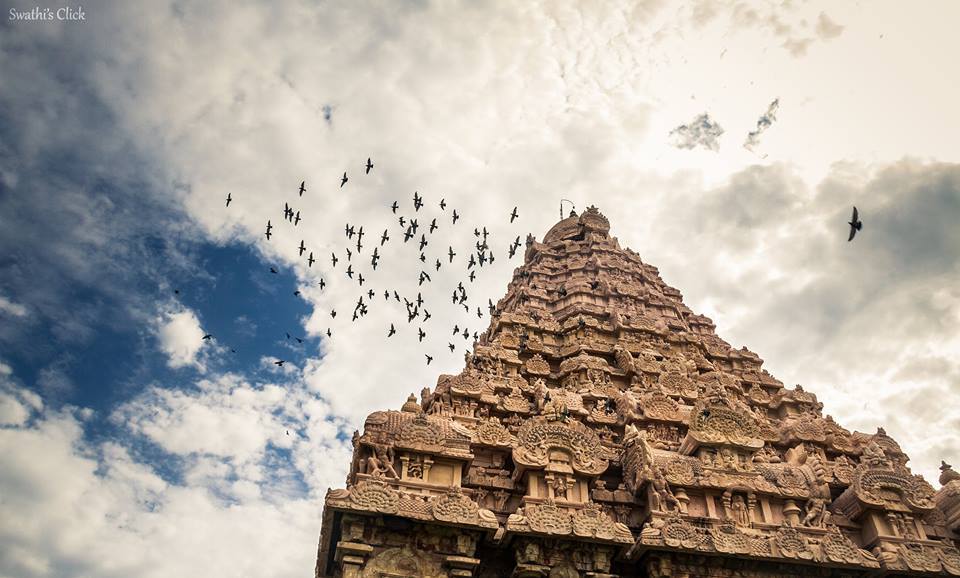 THOUSAND YEARS OLD PRAGATHESSAHWARAR TEMPLE
The Thousand years old Pragathessahwarar temple (THANJAI PERIYA KOVIL) is located in Thanjavur district. It is a Shiva temple which was built by Raja Raja Chola. It is one of the greatest heritages of Dravidian history. The Thousand years old Pragathessahwarar temple holds a place in the UNESCO world heritage site.
IT'S STORY:
Inspired by its architecture and beauty, Raja Raja Chola 2 built Gangaikonda Chozhapuram in Kumbakonam which is said to be a miniature of The Thousand years old Pragathessahwarar temple (THANJAI PERIYA KOVIL). It has a unique history behind.
When Raja Raja Chola 2 visited North India during his wars, He was very much attracted to the beauty of river Ganga. He wanted to bring that to his state too. He also knew that it was highly impossible. But with strived efforts, He managed to hire many men in this process.
He made them bring river Ganga's water in big containers from there to here and built his own lake. And on the banks of that lake, he built the miniature of the Majestic Thanjai periya kovil – Gangaikonda Chozhapuram. It is only a few minutes travel from Kumbakonam city. All the way to the temple, There were so many preparations going on for the Thousand years old Pragathessahwarar temples cremation ceremony. It was around 8 a.m in the morning and People were already engaged in their activities. When I entered, I was very much fascinated by the beauty of the temple. ?
THOUSAND YEARS OLD PRAGATHESSAHWARAR TEMPLE – AN EPICAL BEAUTY:
It stood Majestic and Proud. The Temple exactly looked the same as the Thousand years old Pragathessahwarar temple (Thanjai periya Kovil). It was such a scenic beauty which are absolutely non-describable. I was so much fantasized by the Majestic it holds.
Surrounded by greens and the water of river Ganga, It makes itself a one of a kind beauty. There were many fellow Photographers there. Some amateurs, some who had come to cover the event, some who came for the wedding outdoors and much more. I was also one among them. The best part about the Temple was that wherever I kept the frame, I  never felt like changing it. Each and Every frame of it never failed to explicit its beauty. I was just wondering what a fine piece of Architecture it was.
My fellow men were telling me different angles from where the Temple could be photographed. The main God inside was Shivan just like the Thousand years old Pragathessahwarar temple (Thanjai periya Kovil).
It had room for many other Gods and Goddesses which were mostly broken and mostly missing. Everything was damaged when the Mughals and British invaded India. Some extremely sculpted statues were looted and broken. The saddening fact is to still keep it like that. :/ The Government should take steps on renovating it. Buildings these days require so many extra efforts to make is stay long. But being built so many decades back and still being Gigantically long lasting is something very great. When sunlight falls on the Temple, every nook and corner get filled with light which feels so serene and calm. We are not allowed to take pictures inside the temple.
Else it will be a masterpiece. I worshiped the Lord and came out to continue with my clicking. Every small bit of detailing proves how artistic people were in those days. Definitely much better than the present. It was so Royal to walk on the steps to get in the temple.
THE CAPTURE STORIES:
It was indeed till date my best day photographing. I explored many things like never before.
My f1.8 prime lens suited the colors so well and it was very interesting to capture the pictures of the temple. Capturing it itself was a divine experience. As I explored more, I got a new craze in street photography. Till then I had no idea what category was I special in. My trip to The Thousand years old Pragathessahwarar temple and Gangaikonda Chozhapuram has played a very significant role in my photography career.
It was a total breakthrough and a sure game changer that got me introduced to many legendary Photographers. Some of those pictures were shared by many. It was the best Photo Journey that I every had! <3 Everything was so good about it.
CONCLUDING :
Thousand years old Pragathessahwarar temple and the Gangaikonda Chozhpuram are sure places to go when one visits Kumbakonam or Tanjavur.
It is definitely worth spending the day there. I think it has so many positivities in it, The majesticness of it can be written for blogs together. And its artistic beauty will make even a dumb fellow fall in love with it. (or maybe it can even turn him to be a Writer or a Photographer ?