Build Your Career in Graphic Design
It is been 3 years now that I started doing Graphic Design. As far as Designing and Photography are concerned, The learning process never ends. I did My Bachelors in Visual Communication. But in no way has it influenced me to build my career in so and so. Nothing can actually force a person into this field. It comes out from pure interest. When You come to know that Graphic Design is your line of interest, some join courses on it and some become a self-learned person. Whether you are a beginner or a person who started Graphic Design and don't know how to proceed further, This article of how to Build Your Career in Graphic Design will guide you and help you kick start doing more and explore more in your area of interest. I will be summing up 7 vital points that will guide you to Build Your Career in Graphic Design. Follow my blog and subscribe to get more tips on Graphic design and Photography.
1. Start looking at Designs
To begin a career in Graphic design or Photography, the first and foremost that one should do is to start looking at designs. Examine them. Look at what color they have used. Look at what font they have used. Do a research on why they have used a particular color and why not any other color. You can become a designer only if you start looking at others designs. Attached is some my Designing work. To Build Your Career in Graphic Design, You need to follow and get inspired. Start following Graphic Designers on social media. Only when you look at designs more and more, Things get registered in mind. This vital point will help You to not get stuck while designing something which is a common problem that so many Graphic Designers are undergoing. The more you start looking and examining the designs, less are the chances that you will face a starting trouble.
2. Understand the Software
To design something, You need to understand the tools that are used for design. Photoshop, Illustrator, Corel Draw, and InDesign are some common software used in designing. Whatever software you choose, it is very important that you have a good understanding of each tool as to which is used for what.
There are many plugins and external things that can be included inside the software. But to do a Design, the basic rule is to know the tools. Whether you are going to attend a class or you are learning online, Spending more time on learning the tools is always good and you will not regret this part. To Build Your Career in Graphic Design, You need to go with a flow and not get stuck in between, Having a clear understanding of the software and the tools in it will help you work Hassel free without any doubts and confusions in between.
3. Pre Production Matters
In the process of film making, Pre production is what that consumes most of the time. But this the process that is going to make the Production and Post Production process easier. For you to Build Your Career in Graphic Design, You need to spend more time in Pre Production. Here Your pre production will include ideating, picturizing or if you are an artist, You can even draw the design. Like I mentioned in my previous points, To become an effective Graphic Designer, You need to start working with the flow effortlessly.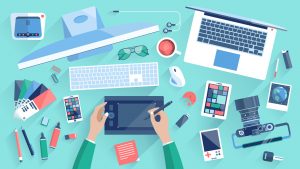 Priorly noting down some key things to include in your design or drawing a rough sketch of your design will help you to avoid any confusions in between. Sometimes, You can even show your rough sketch to Your client and get their approval and then proceed further. This can avoid a major crisis at the end. It is always better to have a clear idea of what you are going to do by deciding and ideating it in the pre production process
4. Color Theory Vitals
It is very important for a Photographer/ Graphic designer to understand color theory. To understand color theory, You need to start looking at color wheels.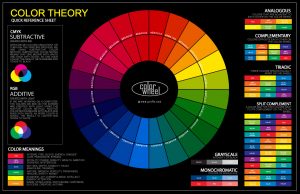 You should be understanding what colors are opposite and what colors are near by you chosen color. By looking at the color wheel, We can understand which color will compliment your design. A good color will always make people look at your design more and more. By this, You will have to know the basics of Color Psychology also.
For instance, We all love the Diary milk ad. When we look at the color tone used, It has a strong Purple tint in it all the time. Purple is known as the color of Royalty.
A costly bar of Dairy milk silk will obviously be targeted to people who can afford it. By using Purple, People get registered to it and will want to buy it more and more apart from its cost. Another example will be Green, which is a friendly color. It is a very comfortable color to the eye. Using green in your design will make people look at it for a long time without any irritation or disturbance. For a better understanding of the color wheel,  You can check the link https://color.adobe.com/create/color-wheel/
5. Typography Essentials
How important Color is, That important is the Typography. We all see memes on Graphic designers stocking up with so many colors into their software, is it? 😛 It is because the font matters so much. The major two kinds of fonts. One is Serif and the other one is Sans Serif.
In this image, the second image has 'flourishes' at the end which is called Serif. And when you look at the first image, It is plain and is called Sans Serif. Sans is a French word which means without. We need start understanding where to use Serif and where to use Sans Serif in your design. If the design is a very grand one with so many vectors and images, It is recommended a very simple font is used. When the background is plain and when the font is going to do all the work, It is good to use a decorative or a creative font which will bring the attraction to the post. Typography also includes Psychological facts. Bringing in elegance and class to your design is always based to Typography. You can research about it in this article https://en.wikipedia.org/wiki/Typography 
6. Build Your Portfolio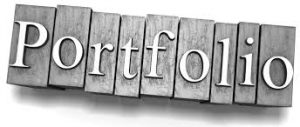 Once you start doing Graphic Design. It is very important that you create and maintain a good portfolio. In this competitive world, Your portfolio will be your mouth. When you are going to meet clients, take your portfolio along and show your work. Let the client understand your work. To demand charges for the design, You should have a good portfolio that will make all the difference. Or if you already have a portfolio, start enhancing them with the latest updates that you have learned. Let your portfolio show that your Graphs are going higher and higher. Of all that you will do in this field, creating a good portfolio is what will make you distinct from others and make you survive for a long period.
7. Never stop Learning
Graphic Design and Photography are fields where we will be getting updates all the time. It is very important to stay updated. The learning process is a never ending one here. To learn more, We need to experiment more. Experiment, Try, Make lots and lots of mistakes. These are all the process that will make you a better Graphic Designer. Every day there is something to learn about and something that will make you a better designer than before. It is good to note down what you have learned. It will guide you in your future projects. After all, Life itself is a hit and trial learning process. 😉 Will Catch up in my next blog! Happy Designing!
Regards,
Swathy Sivakumaar
You can read my other blogs on https://swathysivakumaar.com/blog/