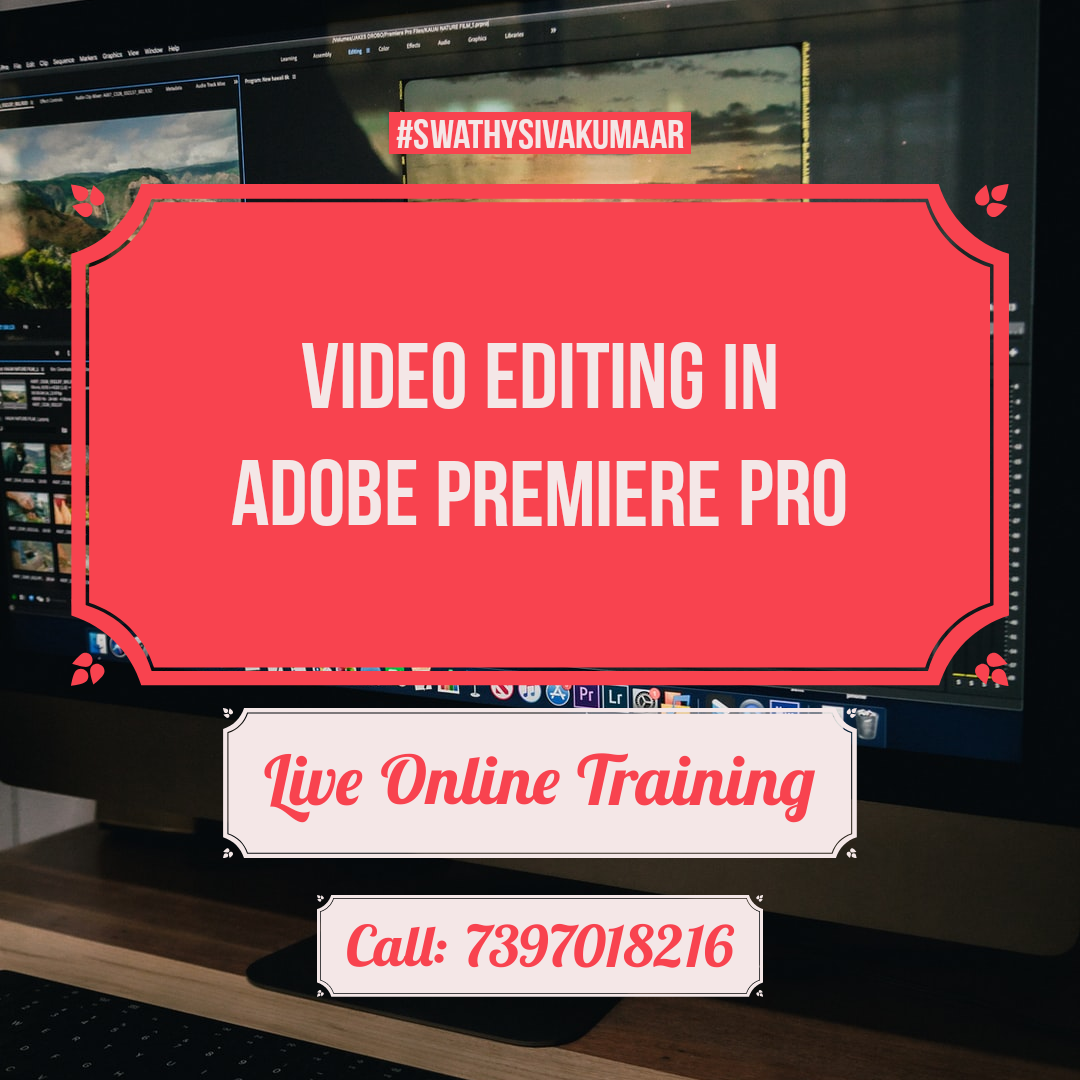 Video Editing Course (Online Training)
Video Editing Course (Online Training) (Adobe Premiere)
Course Output:
At the end of the course, students will be able to edit and export their footages like a Pro using Adobe Premiere
Course Duration: 1 Month
Course Fee: 12,000/-
Contact: +91 73970 18216
What you'll learn
You will learn the Art of Editing and its techniques

You will gain a mastery over Adobe Premiere to edit Short Film, Documentary, Corporate Videos, and Wedding Films, etc.

You will gain professional insights regarding different formats, Presets and Frame sizes

You will learn to adjust your recording in your camera keeping final editing in your mind

You will learn to edit Event Videos using Multi-Camera Editing

You will learn to Color Grade and Color Correct your footage

You will learn to Color Correct your footages using Lumetri Panels and Scopes

You will learn to create visually interesting Motion Titles and Animations

You will learn to stabilize your shaky footage

You will learn to play with Track Matte options in Premiere

You will learn to edit Green Screen Footages
Practical Oriented Syllabus
The unique factor of this course is that it is designed in such a manner that you will have practical (do what you learned) while learning.
Requirements:
You need Window or Mac Computer

You need Adobe Premiere Pro – Any versions, preferably CC
Course Description
Learn to edit your videos like a pro using Adobe Premier Pro

Though there are a number of editing software are available in the industry, Adobe Premiere Pro stands out with its features and user-friendly options. This amazing tool will help you to edit your Short Films, Documentaries, Music Video Albums and Feature Films with its unique features. We go through every single step to train you to become an efficient Video Editor using Adobe Premiere.

The course takes you through the process of becoming an expert editor from one who just knows the software

You will learn to edit your video as you like.

This practical oriented course will prepare you to practice what you have learned

At the end of the course, you will create an amazing portfolio of your works.
What is this Adobe Premiere Pro course all about?
This course will cover everything you need to know to start video editing, including:

Understanding your software

Art and Techniques of Creative Editing

Editing your Event Videos and Music Video Albums using Multi-camera Editing

Playing with the Speed of your Clips using Time Remapping

Creating amazing Titles and Motion Graphics

Color Correcting and Color Grading like a Pro

Cinematic Special Effects Using Masking Techniques

Creating Custom Transitions in Premiere

Removing the background of your video using Masking and Chroma Screen Techniques

Advanced and fun-filled Cinematic Effects

Exporting Settings for any formats
Who this course is for:
Wedding Video Editors

Corporate Editors

Film and Short Film Editors

Documentary Editors

Advertisement Editors

Television Editors

Anyone with the interest to learn Video Editing
Course Content
Introduction
Understand the Art of Editing

Get to know your Software and its unique Potentialities

Animation Properties and your first project

Editing using Source Monitor

Multi-Camera editing – Learn to edit your Music Video Album
Playing with Time – Adjusting the motion of the footage
Speed/ duration Command

Rate Stretch tool

Time Remapping Feature

Stabilize your shaky footage

How to add a timer in your video
Creating Video Titles – Special look on Graphic Elements, Legacy Titles and Track Matte Effect
How to create title and graphics in Premiere

Understanding Graphics Panel and Editors favorites

Legacy Title with Image inside the text

Track Matte Effect

Create your cinematic Intro

Create your first Movie Title
Motion Graphics and Effects Elements
Create a simple motion graphics

Typography motion graphics

Create lower thirds in Premiere Pro

Understanding Effects Panel
Masking and Chroma Screen Techniques
Introduction to Making in Premiere

Creative masking techniques

Object removal with Opacity Mask

Background removal using ultra key

Tracking a Mask

Advanced Masking Techniques
Color Correction Techniques
Color grading vs Color Correction

Color Grading Workflow

Lumtri Color Panel Complete learning

Advanced color correction using lumetri scopes

Cinematic Color Correction techniques
Understanding Audio in Video
Adjust audio levels

Adjust audio channels

Fixing audio with high and low pass filters

Improve audio with EQ

Adjust Audio track with effects
Cinematic Transition
Video Transitions

Audio Transitions

Advanced transition using masking

Cinematic Transitions
Advanced Editing Techniques
Tracking and Rotoscoping Masking

Editing with Proxies

Source Patching and Track Targetting

Advanced effects to boost your editing skill
Exporting & Final Check
Export Options which is essential to know

Exporting to HD and 4K

Make your exporting faster

Learn to export to your favorites like Instagram, WhatsApp, Facebook, etc.

Final Check and Thank You