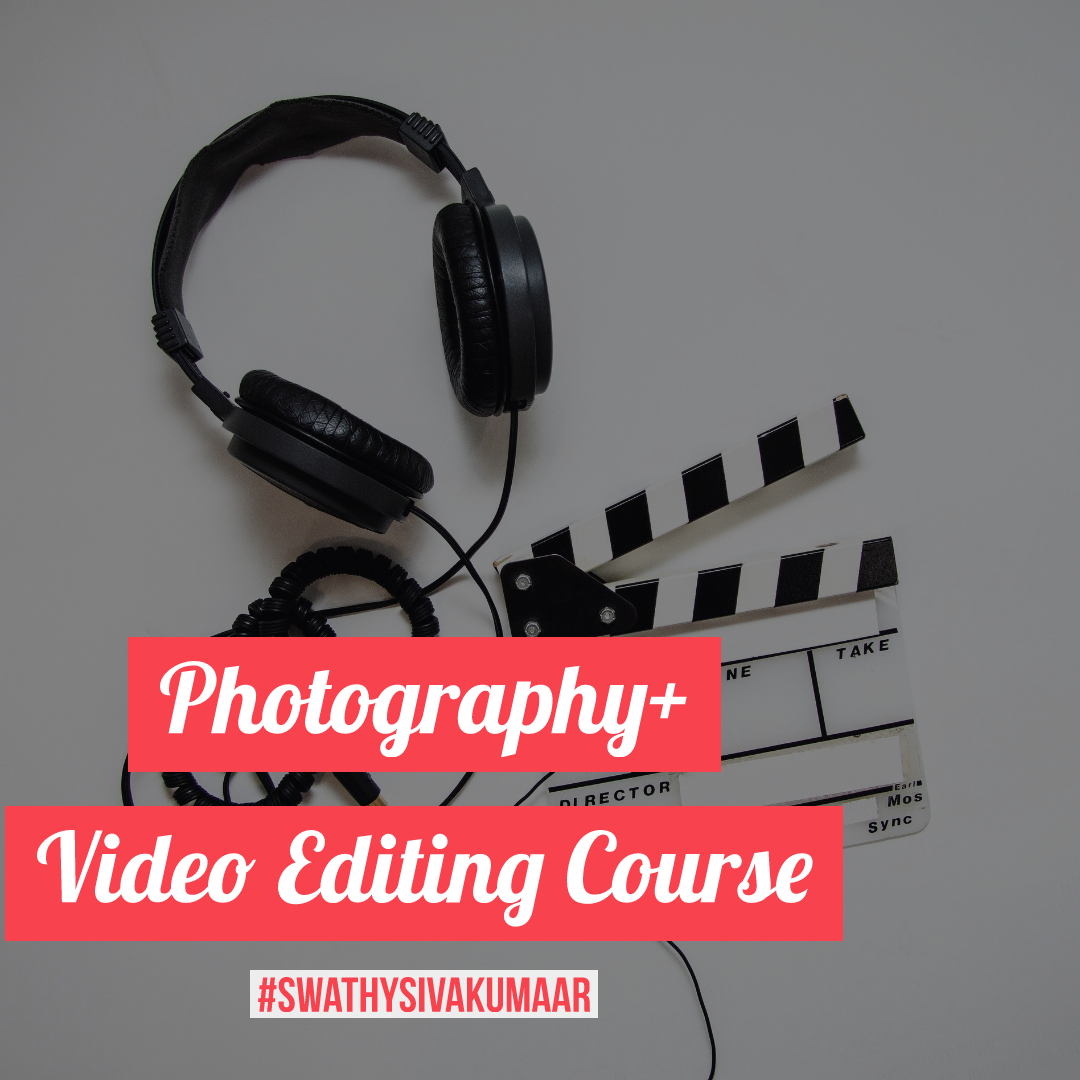 Photography Video Editing Course
Course Description:
Photography is something we love. From a Beginner to a Pro, who does not like to click? Through this Photography Course, You will be learning the concepts to begin your career as a Photographer.
In this Photography course, You will be learning a mix of Technical as well as creative concepts.
Now here comes the best part. You will be learning so many handy tricks and hacks that will change your Photography game without using any fancy high-end equipment.
Along with the Photography Program, We have Additional Sessions on what you can do further once you complete the program. 

Video Editing is the process of manipulating and rearranging video shots to create new work. Editing is usually considered to be a part of the post-production process.

Our Video Editing Course will take you to the art of video post-production in this course you'll learn the art and craft of editing videos from the start to bottom that prepares students to edit video footages that may be used for commercials, documentaries, television shows, and films.
Course Duration: 2 Months
Course Fee: 35,000 INR
Contact: +91 73970 18216
Who should attend?
Photographers
Graphic Designers

Bloggers/Vloggers

Digital Marketers

Anyone who wants to gain extensive knowledge in Photography& Video Editing.
Anyone who wants a career in Photography/ Graphic Design& Video Editing.
Software Covered:
Adobe Lightroom

Adobe Premiere Pro
Special features:
More Practical over Theory
Weekly Photowalks
Community Building through the Platform – 'Bangalore Photowalkers'
Students without a camera will get Camera access in the institute.
Students will learn post-processing using Adobe Lightroom
Students will learn Portfolio Preparation, Facebook & Instagram Marketing.
Course Content:
Principles of Photography
How to Hold a Camera
Starting off with Manual Mode
Different Camera modes
Auto & Manual Focus
How to use Focus points
Framing & Composition rules
Different Photography Genres
Types of Metering
Types of Lenses
Primes Lenses – Uses
Kit Requirements
Instagram & Hashtags
Rule of Thirds
Depth Of Field
Types of Lighting
Camera Raw Format
Tips, Tricks & Hacks
Photo Editing Fundamentals
Lightroom Tools & Techniques
Approaching Freelance Projects
Video Editing Overview:
Introduction to the software Interface & layout

Importing Footage, Timeline & Basic editing tools

Organisation & rough cuts
Audio editing:
Echo reduction

Noise Reduction

Fade in & Fade out
Color correction & Color Grading:
Color correction vs color grading

White Balance

Adding contrast Color correction with LUTS
Video effects:
Special Effects

Transition Effects
Text& Title:
Choosing The Right Font Introduction to Text

Adding Motion to Title With Keyframes

Basic Title Animation
A Live Photoshoot Session will be organized at the end of the Program for Students to have a Practical Exposure
Guidelines:
Owning a Camera/Laptop is not required for the class as You'll be getting a Camera for practice.

Accommodation & Food is Separate and is to be bared by the Individual.

50% of the Course fee will be taken as an admission Fee to confirm a slot.

The Balance 50% of the Course Fee is to be paid on the day of joining.

The Course fee is a non-refundable one.

You can either continue with future batches or pass it on to a Friend of Yours.

Be Open-Minded & Involved.

Staying Away from Mobile Phones during class hours in Mandatory.