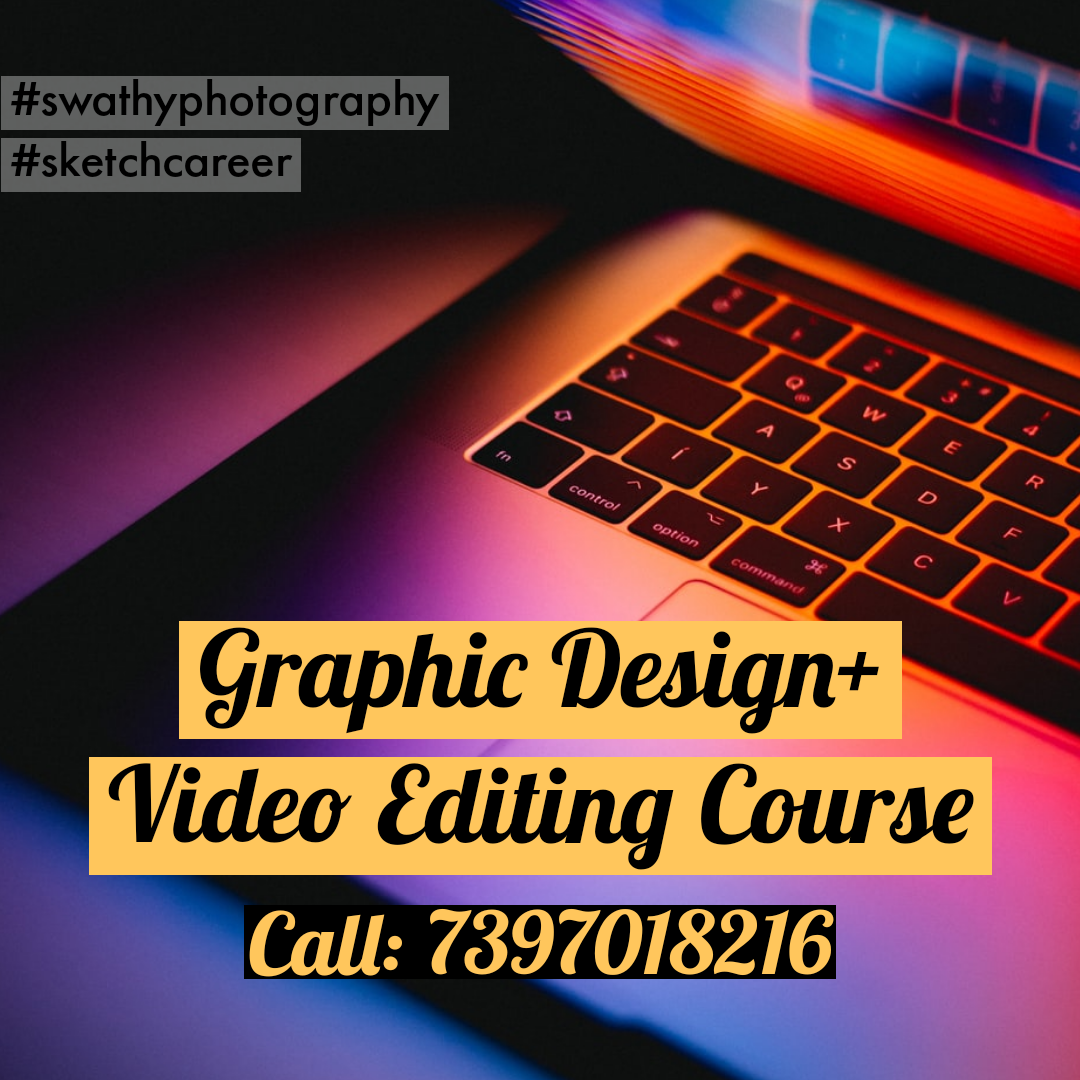 Graphic Design Video Editing Course
For Admissions Call: 7708239096
Who is this Course for?
Are you someone who likes Graphic Design/ Video Editing and want to make a career in it? Then this is the perfect course for you. After completing this course, opportunities are a lot. This course helps you to work in media companies and stand out with your multiple skills. Also, This course enables you to be the one-stop destination to your clients for video editing & graphic design related works. 
Software Covered:
Adobe Photoshop

Adobe illustrator

Adobe InDesign

Adobe Premiere Pro

Adobe Audition
Special features:
More Practical over Theory.
Learn to take videos and edit them like a pro in Adobe Premiere Pro & Adobe Audition.
Learn to Design like a pro in Adobe Photoshop, Adobe Illustrator & Adobe InDesign.
Community Building

Overall, You will become a Confident Graphic Designer.
Video Production, Video & Sound Editing
Syllabus:
Introduction to Videography

Camera Settings for Video

Lighting Basics

Understand the Audio

Composition Techniques

Shot Planning

Essential Equipment

Know your gear
Adobe Premiere Pro CC 2020
Introduction

Editing Techniques

Multi-camera Editing

Animation & Keyframe Interpolation

Playing with Video & Audio Transition

Creating Titles

Audio Editing inside Premiere Pro

Masking Techniques

Advanced Masking

Colour Correction

Colour Grading

Adjusting the Speed

Advanced Premiere Pro Techniques

Green screen Editing & Chroma Keying

Motion Graphics

Motion Tracking

Exporting Options
Adobe Audition CC 2020
Introduction to Audition

Basic Audio Editing

Audio Effects & Adjustments

Noise Reduction & Vocal Improvements

Advanced Techniques & Effects

Music Production

Mixing & Mastering
Projects to be Worked On:
Music Video Album

Editing Challenge with Editing Techniques

Cloning & Masking

Multi-Camera Editing

Film Teaser

Motion Film Poster

Cinematic Colour Correction

Logo Animation

Green screen Video

Promotional Advertisement
Graphic Design Course
Adobe Photoshop
Adobe Photoshop is a critical tool for designers, web developers, graphic artists, photographers, and creative professionals. It is widely used for image editing, retouching, creating image compositions, website mock-ups, and adding effects. Digital or scanned images can be edited for use online or in print.
Interface Introduction

Panels & Workspaces

Image size, Dimension, & Resolution in Adobe Photoshop

Layers in Adobe Photoshop

Common file types in Adobe Photoshop

Colour in Adobe Photoshop

Making selections

Advanced Selection Techniques

Transform tools

Using brushes

Eraser tool & Layer masking

Shape tool

Healing Tools

Retouching Tools

Portrait Enhancing Tools

Type principals in Adobe Photoshop

Layer styles in Adobe Photoshop

Paths & the Pen tool in Adobe Photoshop

Smart objects in Adobe Photoshop

Color adjustments in Adobe Photoshop

Adjustment layers in Photoshop

Filters in Photoshop

Blending modes in Adobe Photoshop

Saving in Adobe Photoshop

Photo Manipulations

3D paper type effect

Digital Sketching

Promotional Mock-Up Materials

Movie Poster Design

Book Cover Design

Photo Repair & Retouching

Album Designing

Matte Painting & Extension

                       
Adobe Illustrator
Adobe Illustrator CC 2020 is a powerful drawing software program used to draw shapes and lines, create text, or import graphics and pictures. You can use Illustrator to do a layout for a book, create a web page, and the list goes on. This is powerful design software used to create vector designs.
Interface Introduction

Panels & Workspaces in Adobe Illustrator

Artboards in Adobe Illustrator

Vector basics | Selection & Direct selection tool

 Fill & Stroke effects in Adobe Illustrator

Using Colour | Swatches | Pantone's | Gradients & more

Creating shape vectors

Grouped vectors, compounding vector shapes & Using the shape builder tool

Drawing with the Pen tool | Brush tool | Pencil tool & more

The Blob Brush tool & Eraser tool

Type tools in Adobe Illustrator

Creating Text Logo

Flyer using vector shapes

Newsletter

Vector Art using Pen Tool & Shapes

Line Art using Pencil Tool

Draw flowers

Mandala design

Clipping mask with text

Clipping Mask with Image

Create fonts using the pucker tool and scallop tool

Reshaping Images using the Puppet tool

Image Tracing and Coloring

Sales Banner

Flat Sketch & Pattern

Gradient Business Card

Promotional Flyer Design
Adobe InDesign
Adobe InDesign is a layout program that allows students to put together all kinds of print materials such as Brochures, Posters, and even large scale pieces like Bill Boards. With InDesign, you are able to format text, include imagery such as photos or illustrations from other Adobe programs like Illustrator and Photoshop. InDesign also features ways to create interactive pieces that you can ultimately view online.
Preparation for Adobe InDesign Projects

Photoshop Action / Image Processing in Adobe Bridge – Changing Colour Profiles

Creating a Scamp, Designing for Your Composition

Document Setup in Adobe InDesign

Adobe InDesign Interface Introduction

The Links Panel in Adobe InDesign

Laying Out Frame Box's / Build Composition Structure In Adobe InDesign

Managing / Formatting Text & Tables in Adobe InDesign

Placing Images into Adobe InDesign

Modifying InDesign Images in Photoshop & Illustrator.

Objects in Adobe InDesign

Building Documents with Master Pages

Working with Text and Type

Working with Styles

Working with Graphics

Working with Tables

Using Colour in Your Documents

Applying colors to multiple objects

Creative effects

Converting text to a path

Export to PDF in Adobe InDesign

Pre-flight in Adobe InDesign

Brochure Design

E-Publication Design

Newsletter

Create Interactive PDF
For Admissions Call: 7708239096
To Read About Me: Click Here
Why Choose Us: Click Here
My Portfolio: Click Here