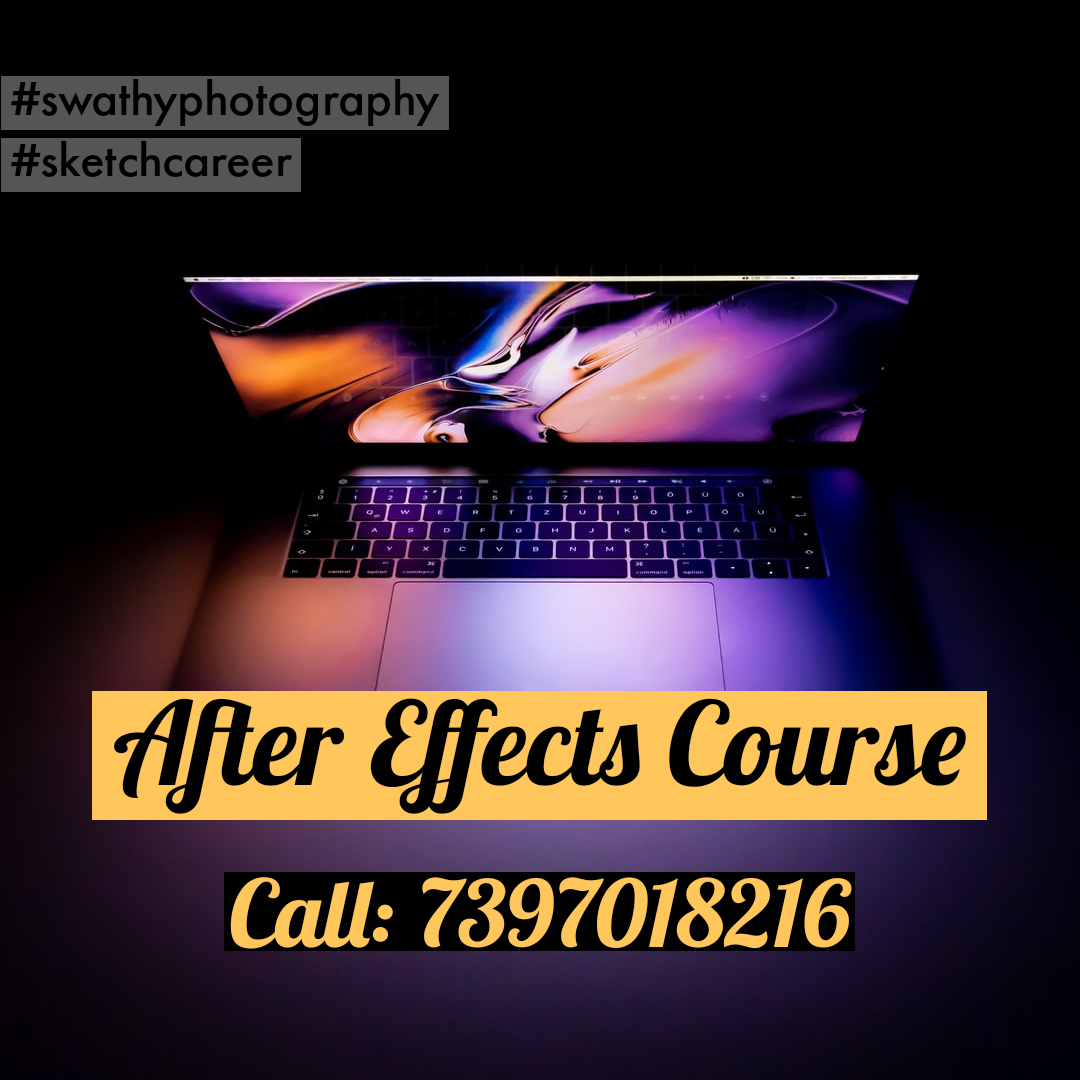 Adobe After Effects Course in Bangalore
.
For Admissions Call: 7708239096
Advanced Video Editing – Adobe After Effects
Learn After Effects CC to improve your videos with professional motion graphics and visual effects.
Who can learn this:
 Anyone looking to use After Effects to improve their videos
 Videographers, video producers, video editors
 Motion graphics artists and Graphic designers
 YouTubers and vloggers
 Businesses that use video as part of their marketing strategy
At the end of the course you will learn:
 Understanding Visual Effects using After Effects
 Creating Professional Titling
 Animation using Keyframes
 Advanced Masking Techniques
 Track mattes & Speed Ramp
 Learn to Create Motion Graphics
 Green screen Techniques
 3D Animation & Camera Technique
 Advanced 3D Lights & Shadows
 Compositing Techniques
 Rotoscoping
 Puppet Tool Animation
 Motion Tracking
 Character Animation
 Exporting your projects
and so much more!
Course Syllabus in Detail
1. Introduction to Adobe After Effects
– Panels & Workspace
– Tools
2.Animation using Keyframe
– Animation Properties
– Creating & Editing Keyframe
– Spatial Interpolation
– Temporal Interpolation
– Advanced Animation with Graph Editor
– Opacity & Blur in Animation
3. Essential Techniques
– Shapes & Colour
– Layer Styles
– Adjustment Layer
– Parenting
4. Masking Techniques
– Pen Tool Usage
– Creating Mask Points
– Transition using Mask
– Advanced Masking Techniques
5. Track mattes & Speed Ramping
– Track matte
– Luma Track Mattes
– Alpha Inverted Track Matte
– Pre-composing
– Time Remapping
– Stabilizing Footage
6. Creating Motion Graphics
– Professional Lower Third
– Colour Transition
– Text with Mask Transition
– Motion Graphics Project
7. Green screen Techniques
– Key light Adjustment
– Adding a Matching Background
– Playing with Puppet Tool
8. 3D Animation & Camera
– 3D & Camera Tool
– 3D Animation & Null Object
– Animating in 3D Space
– After Effect 3D Project
9. Advanced 3D Lights & Shadows
– How to create 3D Lights
– Working with Parallel Lights, Spot Lights, and Point Light
– How to create Shadows
– Shadows with Spot Light & Point Light
10. Compositing
– Effects of Blending Modes
– Subtractive Blending
– Addictive Blending
– Complex Category
11. Rotoscoping
– Rotoscope Tool
– Cleaning Up Edges
– Rotoscoping Project
12. Puppet Tool Animation
– Understanding the Pins
– Animating the Pins
– Adding Perspective
13. Colour Correction
– Basic Colour Correction
– How to use the Colour Wheel
– Advanced Colour Features
– Cinematic Colour Correction Techniques
14. Motion Tracking
– Motion Tracking Basics
– Text Tracking
– Video Tracking
– Tracking Scale & Rotation
15. Character Animation
– Introduction to Character Animation
– Design Your Character
– Rigging Techniques
– Animating the character
– Animating Background
16. Exporting Techniques
– Exporting Options
– Rendering Settings
For Admissions Call: 7708239096